Nordic Conference in Work & Rehabilitation 2018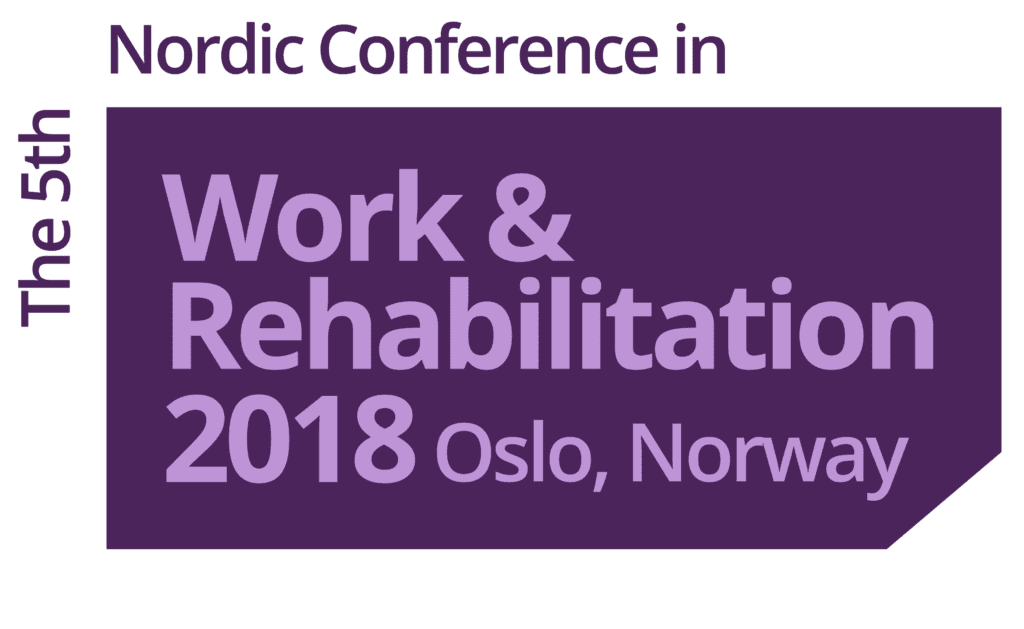 «Challenges in implementing evidence-based rehabilitation»
See program below to find presentations, posters and abstracts

Most of the presentations, posters and abstracts presented at the conference, are now available in their respective parts of the program below.
If you don't find what you are looking for, please have in mind that not all the presenters wish to have their material published.
Welcome
Chris Jensen (NO)
Plenary
Work and health
◥ Ute Bültmann (DK/NL): Work in Life – Work and health from a lifecourse perspective
How can a life course perspective deepen the understanding of the dynamic interplay between work and health?
Plenary Evidence based practice
◥ Gro Jamtvedt (NO): Perspectives on evidence-based work and health
Helsedirektoratet and Arbeids- og velferdsdirektoratet have developed a common strategy on work and health; «Arbeid og helse – et tettere samvirke».  Increasing employment and supporting people into work are key elements of the strategy.
A scientific board was established in 2016 to promote the association between work and health, give strategic advice and promote evidence-based policy and practice. "Evidence-based" implies using best research evidence in decisions, combining evidence with clinical/policy expertise and patient/consumers preferences. Best research evidence means empirical evidence addressing specific questions by valid methods and processes.
Questions on the effects of interventions should be addressed by other designs than etiology, prognoses or experiences, and although randomised controlled trials (RCTs) are considered the best design to address effect of interventions it is not always possible to carry out. The session will address various questions and designs of relevance for the area on work and health.
◥ Christian Ståhl (SE): What is evidence in a broader perspective?
In this presentation, the evidence concept is discussed in relation to different views on what counts as evidence, and consequences for research and policy. The presentation also focuses on how research evidence can be used (or misused) by policy-makers, and models for understanding the mechanisms and challenges in translating research to policy.
◥ Silje Reme (NO):  IPS – implementation in practice
The IPS-model of supported employment is increasingly gaining popularity across the world, with demonstrated effects in most contexts and settings. In my talk, I will present four randomized controlled trials of IPS in Norway. The trials target different patient populations; people with common mental disorders, patients with severe mental illness, chronic pain patients, and young people at risk of permanent disability with various diagnoses. Besides from results on work participation and health, I will also discuss implementation issues and challenges in the various trials.
◥ Stig Aag (NO): Integrating therapy and work related follow-up in practice
Senter for jobbmestring (Center for work and coping) in NAV has the last 10 years, combined therapeutic and work-related follow-up for people with common psychological problems (anxiety, depression and burn-out). The SFJ-teams consist of both therapists and job specialists. In Trøndelag the participants are either unemployed, or have been on long term sick leave. Many of the latter group, plan to change their job situation. We have good experience with implementing IPS both as a model and methodology, and can show good results when it comes to return to work and recovery. I would like to give an insight in how we in practice integrate therapy and work related follow-up. I will also give examples of how we have implemented new knowledge from the RCT-study, into our daily work.
1.1 Workability assessments in practice
◥ Elin Karlsson (SE) – Social validity in work ability assessments
This presentation will focus on introducing social validity as a new concept within this research area. I will describe the content of social validity and how it can contribute with knowledge on acceptability and comprehensibility of goals, procedures and outcomes. I will also give examples of how social validity has been used and evaluated in previous as well as ongoing studies.
Abstract presentations
◥ Katrine Baltzer Thygesen (DK) – Work Ability Assessment across Danish rehabilitation. The implementation of a Work Ability Assessment-tool based on the International Classification of Functioning, Disability and Health (ICF) in Danish job centers.
Abstract

◥ Lene Aasdahl (NO) – Improved expectations about length of sick leave during occupational rehabilitation is associated with increased work participation.
Abstract

Line Thorndal Moll (DK)  – Neck and shoulder pain: Do clinical examination and cervical spine MRI provide added value to the assessment of RTW prognosis?
Abstract

◥ Brede Dammann (NO) – Are specific measures used by those who need them?
Work related measures for adults with Multiple Osteochondromas.
Abstract

1.2 Work Integration

◥ Lena Strindlund (SE) – Employers views on disability, employability and labor market inclusion- a phenomenographic study
Employers views on disability, employability and labor market inclusion- a phenomenographic study. How can the results from the study be used to increase labor market inclusion for people with disabilities? What does it mean for local labor market services? What are the challenges?
Abstract presentations
Roland Mandal (NO ) – Norwegian employers' assessment of physical, mental and socially conditioned disabilities against the work tasks they perform – a multivariate analysis.
Trude Mariane Midtgård and Stine Berre (NO) – What are Norwegian employers' motivation to offer vocational training or permanent employment to persons with disabilities?
◥ Ole Steen Mortensen (DK) – What predicts individuals signed off sick remaining in the job market and how important is the diagnoses?
Abstract
1.3 Cancer and work
◥ Christina Malmose Stapelfeldt (DK) – Effect of an early onset municipal return to work management intervention in cancer survivors
Cancer survivors are often left on their own to deal with the challenges of resuming work during or after cancer treatment, mainly due to unclear agreements between stakeholders responsible for occupational rehabilitation. In a controlled trial municipal social workers use acceptance and commitment therapy dialogue and individual-placement-and-support-inspired tools with cancer survivors to engage them in behavior changes toward readiness for return to work. The workplace is involved in the return to work process. Return to work, defined as 4 consecutive weeks, is the primary outcome. The innovative element of this intervention is the timing of the occupational rehabilitation which is much earlier initiated than usual. Whether the intervention had effect will be presented at the conference.
◥ Steffen Torp (NO) – The Labour and Welfare Administration's role in supporting self-employed cancer survivors in Norway
The Labour and Welfare Administration (NAV) is an important part-taker and stakeholder for occupational rehabilitation in Norway. From earlier research we know that cancer survivors are less satisfied with the support received from NAV than other users of NAV. Research on return to work (RTW) among self-employed cancer survivors is scarce but there are indications that this particular group of workers struggle more with RTW after cancer than other survivors. By interviewing self-employed cancer survivors and NAV counsellors, we have investigated how NAV support self-employed cancer survivors and analysed strengths and constraints of the NAV system that self-employed people may encounter in their struggle of returning to work after cancer treatment.
Abstract presentations
◥ Maria Aagesen (DK) – Readiness for return to work among cancer survivors – A quantitative exploratory study.
Abstract
Rikke Rosbjerg (DK) – The impact of physical activity and self-efficacy on the employment status of cancer patients at the initiation of chemotherapy.
Louise Sofia Madsen (DK) – The processes in readiness for return to work experienced by cancer survivors – a qualitative study.
1.4 What works in cognitive interventions?
◥ Thomas Johansen (NO) – The effects of work-focused CBT versus traditional CBT on return to work
Psychological health complaints such as anxiety, depression and musculoskeletal pain are the most common causes of sickness absence and impair work ability. The effectiveness of psychotherapeutic interventions, such as cognitive behavioural therapy (CBT), on return to work is not fully known. However, there are now some indications that work-focused CBT has effect on RTW. The main CBT principles revolve around changing dysfunctional thinking (cognitions) and acquiring effective coping skills. The central principle in work-focused CBT is that the treatment components are applied in the work context. In this presentation a summary of the empirical results to date will be given comparing work-focused CBT and traditional CBT and the effects on return to work.
◥ Pernille Pedersen (DK) – Psychoeducation for individuals on sick leave
A study is presented, which concludes that psychoeducation is not recommended to facilitate return to work. In Denmark, it is estimated that 35-45% of all sick leave registered citizens are on sick leave due to mental health conditions. Between 2012 and 2014, 430 participants on sick leave were randomly allocated to either psychoeducation intervention or control group. Psychoeducation consisted of 2-hour sessions once a week for 6 weeks. The sessions focused on stress and work life and was based on problem-solving techniques and coping strategies.  Offering psychoeducation to individuals on sick leave at risk of having a mental disorder had no influence on the chance of return to work during the first 6 months.
Abstract presentations
◥ Ragne G. H. Gjengedal (NO) – Work-Focused Cognitive and Metacognitive Therapy for Common Mental Disorders and Return to work: a Prospective Observational Study.
◥ Birthe Bruun Olsen (DK) – Clinical experiences with cognitive remediation integrate with vocational rehabilitation in patients with first- episode schizophrenia: The MORPHEUS project. Young person with schizophrenia: "Every morning an elephant is sitting on top of me"
Abstract
2.1 Leadership, sickness absence and health – what is the evidence?

◥ Monica Bertilsson (SE) – Managers perspectives on mental health
What do managers know and do? Despite being key persons for employees working health and rehabilitation, their knowledge is overlooked in contemporary research. I will present data from the Swedish study Manager perspective – the missing piece, one of the largest surveys to managers about their knowledge and actions in relation to employees with common mental disorders.
◥ Janne Skakon (DK) – Leaders' stress and wellbeing – and the effect on employees
The myth of the strong, flawless and effective leader still exist, however 15 % of all leaders and managers report experiencing stress. And even a good leader loses quality of leadership when stressed, thus risk to undermine employee well-being and ultimately affect the quality of work. Therefore, companies should take stress among leaders seriously, by focusing on both prevention and handling.
◥ Elisabeth Svinndal (NO) – Hearing disability and work participation
Hearing loss is a risk factor for work disability, and multiple studies have shown increased prevalence of fatigue in this group of employees. Lack of knowledge of the impact of hearing loss in the employees themselves seems to be a major barrier to sustainable work situations. Implemented measures tend to be limited, even when the employer has a positive inclination towards accommodation. Thus, is there a need for a rehabilitation protocol for hearing loss, and where should it take place?
Abstract presentations
Riitta Seppänen-Järvelä (FIN) – Do theory-based disability management paradigms contribute to HR managers' knowledge of workplace factors affecting disability?
◥ Ásta Snorradóttir (IS) – Managers attitude to hiring and retaining employees with disabilities.
Abstract
2.2 Workplace involvement
Abstract presentations
◥ Cecilie Nørby Thisted (DK) – Employers' attitude, opportunities and challenges in supporting employees with depression.
Abstract
◥ Lisa Björk (SE) – How can primary care succeed in involving the employer in the rehabilitation of stress-related disorders?
Abstract
◥ Martin Skagseth (NO) – Effects of a workplace intervention in inpatient occupational rehabilitation: a randomized clinical trial.
Abstract
Marit By Rise (NO) – Workplace meetings in occupational rehabilitation – a multiple case study exploring stakeholders´ experiences.
2.3 Vocational rehabilitation and disability
◥ Pirjo Juvonen-Posti (FIN) – Mechanisms of vocational rehabilitation for prolonging working career.
The vocational rehabilitation process is a complex intervention in a complex system.  However, little is known of the collaboration within the action networks of unemployed and employed rehabilitees' vocational rehabilitation intervention processes, or of the role that collaboration plays in the outcome mechanisms of these interventions.
Abstract presentations
◥ Erik Berglund (SE) – Vocational rehabilitation performed with multidisciplinary assessments and acceptance and commitment therapy to promote return to work and increased employability: A randomized controlled trial.
◥ Karen Walseth Hara (NO) – Randomized Controlled Trial of Adding Telephone Follow-Up to an Occupational Rehabilitation Program to Increase Work Participation
Abstract
Pernille Pedersen (DK) – Comparing multidisciplinary and brief intervention in employees with different job relations on sick leave due to low back pain – one year follow-up.
◥ Anita Dyb Linge and Wivi Andersen (NO) – Will lifestyle rehabilitation with work intervention increase work ability?" A randomized controlled study with an exploring prospective design. Abstract
1. Ásta Snorradóttir (IS) Staying motivated in our jobs within occupational rehabilitation – what can be learned from the Icelandic football team?
The story of the Icelandic football team – not focusing on football, but on the strategy they have built within the team – on team building and team working – being a team rather than an individual, how to stay focused, how to tackle success and no success. This is following by work within groups discussing challenges and successes in their own job, how to stay motivated, how to move forward, how to get greater success.
2. ◥ Pernille Pedersen, Anne-Mette Momsen og Christina Stapelfeldt (DK) Evidence on Return to Work Policy and Practice from the perspective of the workplace
This workshop will include perspectives from stakeholders involved in RTW policy and programs. ◥ Tor Idar Halvorsen, The Norwegian Confederation of Trade Unions (LO) will present a view on important moments for successful rehabilitation. In Norway the Directorate of Health and the Labour and Welfare Administration (NAV) have formed strategies for cooperation. Evidence on employer provided programs of workplace disability managements, results from a review will be presented. Presentations will be followed by group work and discussions leading to ideas on how to manage RTW processes on different stages and levels (personal, organizational, and system).
3. ◥ Angelika Schafft (NO) Employer guides: An interdisciplinary service for vocational rehabilitation of people with mental health issues – recognising the employers' perspectives.
Research has shown that helping people with mental disorders to enter the workforce and/or retain their jobs requires a cross-sector and multidisciplinary collaboration between mental health services and labour and welfare services. Studies on employers' experiences highlight particular challenges and support needs. Based on this recognition a service called "Employer guide" was developed to provide feasible support strategies aiming to increase work retention as well as labour market inclusion of people with mental health conditions. What began with a pilot project (2009-2012) has since become a nationwide service available at NAV Inclusive Workplace Support Centres. Employer guides are trained experts in mental health and work issues. They offer professional guidance and assistance to employers/HR-managers to prevent and reduce mental health problems among employees and job seekers.
Plenary
Working environment
◥ Ståle Einarsen (NO): Leadership, working environment and sick leave
Psychosocial factors at work and the leadership style of ones superiors are increasingly seen as antecedents and risk-factors for sick-leave and absenteeism in working life. Here I will provide an overview of contemporary research findings related to the role leaders and other social stressors have in predicting and potentially preventing sick-leave. In this, presenteeism, that is workers going to work when ill, should also be looked at, as leaders may also create more or less constructive cultures in this respect.
◥ Tuula Oksanen (FIN) – Evidence-based health promotion in workplaces
Workplace health promotion (WHP) interventions often target individuals with health risks, such as developing diabetes. Thereby, the main motivation is the long-term benefit, for example, by not getting type2diabetes in 20 years time. In this presentation, a new approach for WHP is presented. It takes into account that health risks vary and accumulate according to occupation. We argue that transferring the focus from disease risk prevention to improving work ability and recovery from work is helpful. This follows, that tailoring WHP according to occupations and their demands is needed. In this approach, the main motivation for health promotion and life style changes is the short-term benefit, improved work ability and recovery from work in every day work. A summary of results from systematic reviews how workplaces can improve work ability and recovery from work via health promotion interventions is presented.
Plenary
Mental health at work
◥ Gunnel Hensing (SE): New Ways to mental health at work – the contribution of this conference
Gunnel will talk about themes that were presented at this conference on primary and secondary prevention of sick leave. You will hear about perspectives on:
– when is the right time to intervene ?
– how do we avoid medicalisation or adopting a sick role ?
– how is gender important and how is gender perceived ?
[ultimate_spacer height=»20″]
Asking questions in the sessions
You can ask questions in Norwegian, Swedish and Danish if the speaker comes from one of these countries. Use the microphone or go to Slido.com
Enter eventcode WR2018
Submit question
Remember your name and organisation!
The chair will address the most interesting questions
You must sign up for Wednesdays workshop in the secretariat before Tuesday at 14:00
Presentations available after the conference
Presentations will be available in their respective parts of the program on this website, shortly after the conference. Please have in mind that not all the presenters want to publish their presentations.
List of participants
List of participants should be available in your e-mail September 27. If you need a printed list of participants, please print out this list before the conference.

Write to us and let us know if you did not get this e-mail, on firmapost@arbeidoghelse.no
Drinks
Two glasses of wine or two units of non-achoholic drinks are included in the banquet dinner on Tuesday. All other drinks are ordered and paid for indidvidually.
Getting from the airport
It takes you 50-70 minutes to get to the hotel. If you have walking difficulities, we recommend getting a taxi from the city centre to the hotel. See transport options >>
Soundfield system (teleslynge)
is available in all sessions
Special dietary needs
Please contact work@ccnorway.no or let us know when registering
Checkout
Before 12:00 on Wednesday
Certificate of attendance
Approval for Norwegian participants:
Norsk psykologforening: 16 hours maintainance activity
Legeforeningen: Allmennmedisin: Godkjennes med 13 valgfrie kurspoeng til videre- og etterutdanningen.
Fysikalsk medisin og rehabilitering: Godkjennes med 13 timer for spesialistenes etterutdanning.
We wish that all speakers, organisers and participants attend the whole conference, all three days.This is an interactive conference, and all the program posts cohere.
[ultimate_spacer height=»10″]
Full conference package includes:
Conference fee
Lunch all 3 days
Dinner Monday evening
Banquet dinner Tuesday evening
Accommodation in single room
[ultimate_spacer height=»10″]
[ultimate_spacer height=»10″]
[ultimate_spacer height=»10″]
Conference and meals package includes:
Conference fee
Lunch all 3 days
Dinner Monday evening
Optional: Banquet dinner tuesday evening (NOK 500 extra)
[ultimate_spacer height=»10″][ultimate_spacer height=»10″]
Participation throughout the conference
This is an interactive conference that lasts for three days, and all the program posts cohere. Therefore, we wish that all speakers, organisers and participants attend the whole conference, all three days.
You can pay with credit card, invoice or EHF-invoice

If you would like to pay with invoice, fill in your invoice adress in the form when registering, and you will receive an e-mail confirmation with an attached invoice.
We can send EHF invoices (a special electronic invoice) to Norwegian organisations which accept these invoices. Just check the box for EHF invoice when registering, and fill in your organisation number and your reference number. This invoice will go directly to your organisation's accounting department – not to your inbox.
Cancellation
Cancellation BEFORE August 24 2018: Full refund minus NOK 1000 in cancellation fee
Cancellation AFTER August 24 2018: It will not be possible to cancel, and you will pay full price. You can change the name on your registration.
Questions about registration or payment?
Contact Congress Conference, tel. +47 22 56 19 30, e-mail work@ccnorway.no
Gunnel Hensing, Sweden
Professor, Department of Public Health and Community Medicine at Institute of Medicine
Gunnel Hensing, professor in social medicine, is the leader of the research program «New Ways – Mental Health at Work», and the longitudinal epidemiological study «Women and Alcohol in Gothernburg». Her research areas are mental health in working life, sickness absence in theory and practice, and gender perspectives on mental health and alcohol use.
Ute Bültmann, the Netherlands
Professor, Department of Health Sciences, Community and Occupational Medicine, University Medical Center Groningen, University of Groningen
Ute Bültmann is Professor of Work and Health, in particular from a life course epidemiological perspective, and Program Leader of Public Health Research at the Department of Health Sciences, Community and Occupational Medicine of the University Medical Center Groningen, University of Groningen, the Netherlands. She graduated in Health Sciences from Maastricht University in 1997 and conducted her PhD research on "Fatigue and Psychological Distress in the Working Population: The Role of Work and Lifestyle" at the Department of Epidemiology at Maastricht University, the Netherlands (2002). Her research interests include the epidemiology of work and health and the measurement of health-related functioning at work. From 2003 until 2007, she worked at the National Institute of Occupational Health in Copenhagen, Denmark. She is involved in collaborative research projects on labor market experiences and health in Denmark, Sweden and Canada. She is affiliated with the National Research Centre for the Working Environment in Copenhagen, Denmark and the Karolinska Institutet in Stockholm, Sweden.
Her current research activities focus on adding a life course perspective to work and health research, and to translate the findings into relevant policy and practice measures to make a difference towards "healthy working lives". She is a 2016 VICI laureate of the Netherlands Organisation for Scientific Research (NWO) for her research on "Today's youth is tomorrow's workforce: Generation Y at work".
At the conference, she will give a keynote lecture on how a life course perspective can deepen the understanding of the dynamic interplay between work and health.
Silje Endresen Reme, Norway
Professor, Department of Psychology, University of Oslo.
Silje Endresen Reme is professor at the Department of psychology in University of Oslo and clinical psychologist at the Department of pain management and research at Oslo university hospital. She has broad experience in research on physical and mental health and sick leave, occupational rehabilitation and evaluation of large interventions. She is also interested in pain psychology, pain management and cognitive behavioral interventions.
Tuula Oksanen, Finland
Chief specialist at the Finnish Institute of Occupational Health
Tuula Oksanen is chief specialist at the Finnish Institute of Occupational Health and adjunct professor in social epidemiology at the University of Turku. She has broad research experience in the health inequalities of working age populations and, specifically, in the (psycho)social determinants of health and health inequalities. She is co-PI of the Finnish Public Sector study (FPS) with professor Mika Kivimäki. FPS is a large cohort study of public sector employees in Finland covering data of nearly 500,000 employees. She is also deputy-PI of Evidence-based health promotion@work study (Promo@Work) led by adjunct professor Jaana Laitinen. In Promo@Work she is developing evidence-based guidelines for health promotion in workplaces. She has published over 120 articles in international scientific peer-reviewed journals.
Ståle Einarsen, Norway
Professor, Department of Psychosocial Science, University of Bergen.
Ståle Einarsen is professor at the Department of psychosocial science, Faculty of psychology, University of Bergen where he leads the research group of work environment, leadership and conflicts. He is also head of Bergen bullying research group. Ståle is an international well-recognized psychologist and researcher in the field of conflict negotiations and bullying in working life. He has published a number of articles and books on the topic.
Christian Ståhl, Sweden
Associate professor at the Department of Medical and Health Sciences, Linköping University
Christian Ståhl is associate professor at the Department of Medical and Health Sciences, Linköping University, and a research leader at HELIX Competence Centre, Linköping University. His research focuses on social insurance, work and health, from a sustainability and equality perspective. He has also specialized in policy analyses of welfare systems, and ethical issues in work and rehabilitation.
Gro Jamtvedt, Norway
Dean, Faculty of Health Sciences, Oslo and Akershus University College of Applied Sciences
Medical perspective on evidence based practice – how to make users participate in what is researched?
Abstracts
Most of the presentations, posters and abstracts presented at the conference, are now available in their respective parts of the program.
Abstract submission deadline: April 15th 2018
Send the abstract to irene.oyeflaten@arbeidoghelse.no. You will receive an acknowledgement of receipt within 2 to 3 days.
After a review process by a scientific reviewing panel, all authors will be informed about the acceptance of their abstract and about oral or poster presentation by the 1st of May.
Abstract guidelines
Maximum 400 words, including title, subheadings, authors and affiliations.
The abstract should be in English
Font type: Times New Roman 12
The target group is practitioners, make it relevant!

Use the following subheadings:
Title
The title should be short and informative
Author and co-authors
Underline the presenter
Affiliations
Workplace, town and country
Introduction
Shortly about background, objective and research questions
Methods
Describe shortly methods used to answer the research questions
Results
Describe important results relevant to the research questions. It is not necessary to report all results
Discussion and conclusion
Discuss potential clinical implications of your findings. For whom are the findings important and how should they be implemented in practice
Target group
All stakeholders, rehabilitation clinicians, medical professionals and researchers interested in knowledge transfer and exchange between research and practice in the field of occupational and vocational rehabilitation.
We want to facilitate an interactive conference where all invited speakers have been asked to participate in the whole conference.
Organisers
The 5th Nordic Conference in Work & Rehabilitation is organised by the Norwegian National Advisory Unit on Occupational Rehabilitation (Nasjonal kompetansetjeneste for arbeidsrettet rehabilitering, Rehabiliteringssenteret-AiR) in collaboration with partners from Denmark, Sweden, Finland and Iceland.
Organising committee
Irene Øyeflaten and Thomas Johansen, senior researchers, and Chris Jensen, manager, Norwegian National Advisory Unit on Occupational Rehabilitation, Rehabiliteringssenteret-AiR
Christian Ståhl, associate professor, National Centre for Work and Rehabilitation, Linköping university, Sweden
Merete Labriola, senior researcher, DEFACTUM, Social & Health Services and Labour Market, Central Region Denmark
Pirjo Juvonen-Posti, senior specialist, Finnish Institute of Occupational Health
Icelandic Rehabilitation Fund VIRK.